Cheers to one year of Tandem Chocolates!
Posted on November 23 2022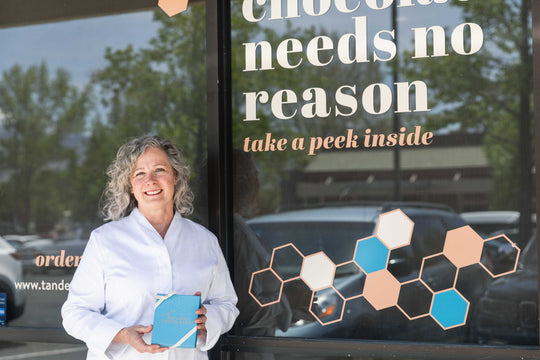 Can you believe it's been one whole year since we've opened our flagship store? In just 365 short days, we have invited the local chocolate-loving community into our shop, launched a new site, and added so many exciting new products to our collection! Even better, this anniversary falls the same week as Small Business Saturday, a day dear to our hearts.
Small Business Saturday was created to celebrate small businesses and promote shopping locally in our communities. As a small team working to bring a unique confectionary experience to Reno, your support means everything to us. We feel so grateful to the Northern Nevada community for shopping at Tandem Chocolates not just on Small Business Saturday, but all year-round!
At Tandem Chocolates, our mission is to 'eat well, do good.' We do this by supporting women craft chocolate makers, entrepreneurs, and artisans both abroad and in Northern Nevada. We intentionally source not just chocolate, but also specialty ingredients, services, and materials from women- and family-owned businesses. We are dedicated to protecting and supporting the people, communities, and natural resources involved in every aspect of Tandem Chocolates. It is the love of our local community that allows us to expand our reach and make such a big impact!
To celebrate this season of gratitude, we want to give back by offering treats to the community that has supported us over the past year. This Small Business Saturday, we will be offering complimentary tastings of our new custom-blend hot cocoa, drinking chocolates and other treats as a thank you to our community! Please join us at the shop on November 26, 2022, between 11am-3pm, to enjoy something sweet, meet our team, and see what's new at Tandem Chocolates. We can't wait to see you all!
SMALL BUSINESS SATURDAY
What:
Complimentary tastings of cocoa, treats, & more
Where:
Tandem Chocolates, 7111 S. Virginia St. Unit #A15, Reno, NV 89511
Date:
November 26, 2022
Time:
11am-3pm